Welcome to Naomi Lee's Beloved Hearts Memorial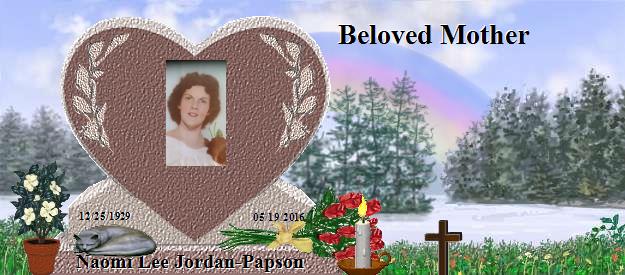 Memories of Naomi Lee
Mom, you always made us feel loved. I will miss you all the days of my life.
Survived by:
Richard Gates-Son, Karen Zinkosky-Daughter, Christina Stanley-Grandaughter, Richard A.Gates-Grandson, Christina Gates- Great-Grandaughter, Helen Jordan-Sister-In-Law, Nieces and Nephews
---
Sign Guest Book
---
Naomi Lee's survivor(s), Karen, would appreciate knowing you have visited their dearly departed's Memorial.
Click here to Email Karen a message, or to send an e-sympathy card click here.
Give a gift renewal of Naomi Lee's memorial.
(by Credit Card, or PayPal)